Mars has published details of its plan to halve its full value chain emissions by 2030 (versus a 2015 baseline), supported by an investment of USD 1 billion over the next three years and with more resources to be committed as required. The new net zero target has been reviewed by the Science Based Targets Initiative.
With a climate footprint roughly equivalent to Finland's, Mars has reduced its emissions by 8% from a 2015 baseline, despite increasing sales more than 60% over the same period. In October 2021, Mars pledged to reduce emissions by 27% by 2025 against the 2015 baseline.
Mars projects that its plan will allow it to eliminate 50% of its value chain emissions by 2030 and 80% by 2050, the remainder of which would be offset with carbon credits. The company estimates that getting to a 50% GHG reduction will cost roughly 1% of annual sales.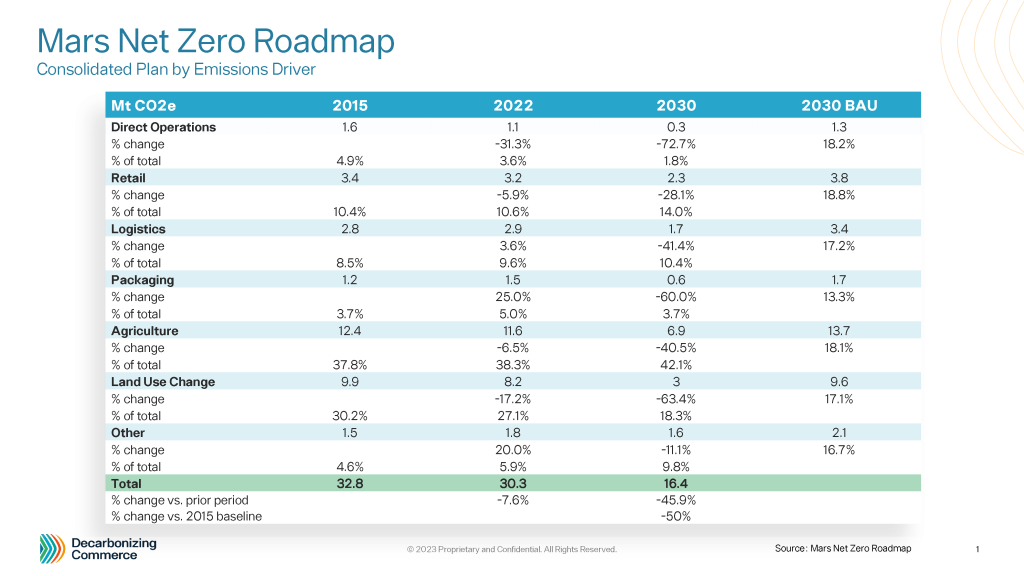 Direct versus Value Chain Footprints
Unsurprisingly, the Mars plan projects the greatest relative emissions reduction in its direct operations, where it plans a 72.7% reduction from 2022 emissions by 2030, following a 31.3% reduction in 2022 versus a 2015 baseline. Mars has the most control over its own operations, but like many CPG companies, a majority of its emissions are upstream and downstream in its value chain.
More than 80% of Mars's corporate climate footprint comes from inputs like raw materials, packaging, and logistics, and cooperating with retailers and suppliers is a key element of its plan.
Logistics and Retail
Logistics and retail combine to account for more than 20% of Mars's full value chain emissions.
To reduce logistics-driven emissions, Mars aims to reduce the distance products move and increase utilization rates. It also plans to prioritize lower-emission modes of transport like rail and water, and to switch to lower-emission fuel sources for land-based routes.
Though Mars notes that decarbonizing retail is a relatively new focus for the company, retail accounts for more than 10% of its value chain emissions, and it sees strong potential to work with retailers to achieve its goals and theirs. Its plan calls for its retail climate footprint to decrease 28.1% by 2030 versus 2022, compared to a 5.9% decrease in 2022 versus a 2015 baseline.
Mars highlights working with retail and distribution partners to transition to renewable energy for lighting, refrigeration, and space heating and cooling as one key element of its plan. It will also work with retailers to decarbonize their logistics networks.
Mars also cites digital commerce growth as a "tailwind" for its plan to reduce last mile retail emissions, as home delivery with highly utilized delivery vehicles is generally lower emission than individual consumers' trips.
Packaging
The company's plan also calls for major reductions in packaging's climate footprint, with a 60% reduction by 2030 versus 2022, compared to a 25% increase in 2022 versus 2015.
Mars is redesigning 12,000 packaging components with the aim of lowering emission and increasing circularity. To help eliminate waste, its packaging strategy also includes switching to mono-material plastics, increasing recycled content, and continuing to lightweight packaging.
Upstream in Focus
Agriculture and land use change (deforestation and the conversion of land to support certain crops) combine to account for 65% of the company's total value chain emissions. The company's plan calls for a 40.5% reduction in agriculture emissions and a 63.4% reduction in land use emissions by 2030 versus 2022.

Mars cites a commitment to achieve a cocoa supply chain free of deforestation and conversion by 2025 as the single largest action it can take in these areas, but also highlighted other strategies.
Mars will reformulate products to use lower-emission ingredients and materials where possible, while balancing factors like regulatory requirements, nutritional needs, and consumer perceptions.

The company is also investing in regenerative and Climate Smart agricultural practices to protect soil health and biodiversity.
In its approach to sourcing, Mars will add carbon intensity to the criteria it uses to evaluate suppliers, using its buying power to influence innovation and competition and to reward suppliers that prioritize emissions reductions.
It will also add a GHG footprint assessment to the due diligence process for mergers and acquisitions, and its GHG accounting will include acquisitions' historical emissions from the company's 2015 baseline forward.

The Mars Net Zero Roadmap has made headlines in the green business press, but it hasn't seen as much coverage in retail and CPG trade press.
This is a shame, because it signals important changes to how the company does business with suppliers and retailers. To quickly recap the highlights:
Mars is committing 1% of annual sales to the initiative
Where feasible, Mars will reformulate products to have a lower climate footprint
Carbon intensity will now be a factor Mars uses to evaluate suppliers, and M&A targets will be scored on their climate footprint
Packaging will see a major overhaul, with a focus on reducing emissions and eliminating waste
Decarbonization will be a growing factor in work with retailers
For such a high-profile plan, some themes are also notably absent:
Reuse/refill and compostable packaging – While packaging is a major focus, Mars seems not to be prioritizing reuse/refill or compostable or biodegradable packaging, instead making changes aimed at increasing recyclability. This is one part of the plan that may evolve over time, as it appears to have contingencies on an equally ambitious overhaul of global recycling infrastructure and may create tension with other waste-reduction goals.
Product-level footprinting and labeling – Though Mars briefly mentions beginning to explore ways to help consumers reduce emissions at the product use stage, there's no mention of plans to guide shoppers to lower-emission products within the Mars portfolio.
Carbon capture – while "high-quality carbon removal credits" covering the final 20% of baseline emissions puts the "net" in "net zero," Mars seems not to be planning to rely on carbon capture for its plan. The focus on driving down emissions in its own value chain is a sign that Mars is planning to do the hard but inevitable work to evolve its own ways of working, as opposed to counting on offsets or credits.
Like many other strategic initiatives that CPGs pursue, this one, at least in part, seems designed to position Mars as a preferred partner for retailers.
---